Now Now Now ... Tina .. it is not polite to ask

JOHN ECKHART (FONZE)




Posts

: 192


Join date

: 2012-12-15


Location

: LILYDALE



Interesting report. Good to see people getting out and about.
Must have gone very quick to get to Tallangatta and back for lunch.
Might have been Toolangi perhaps - or is that the "spot the mistake" bit
to make sure everyone is reading the report?

Sounds like a great day. Makes it harder to think I was stuck at work - still.
Happy riding.
Henry Rokx

Henry Rokx




Posts

: 323


Join date

: 2012-11-07



Well Snake I have to say I loved your ride report. The B Doubles broke me up. And the photo of the bike......was it a Harley?


Tinas_Harley




Posts

: 48


Join date

: 2014-04-23


Age

: 56


Location

: Mooroolbark



Well done Gavin (snake)  well planned ride - great roads and a good day - unfortunately one of our numbers had to complete the ride in a tow truck, but still had a good time - very thoughtful not to name the rider or identify his particular brand of wheels so as to save the embarrassment.
Pic attached.  -
 not embarrassed at all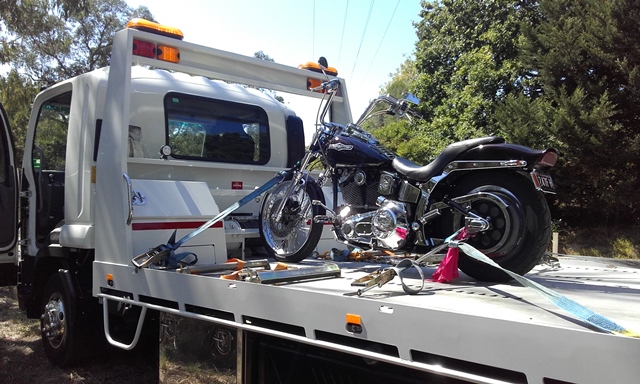 l ... just love it.

JOHN ECKHART (FONZE)




Posts

: 192


Join date

: 2012-12-15


Location

: LILYDALE



Today..................... perfect motorcycling weather ............................crisp cool air to improve engine power with bright sunshine to improve visibility what more could we want so with my fellow 7 brave Ullysians we set off to conquer the Snake Root.
So we leave our ceremonial home Brunch Cafe in a cloud of dandruff and testosterone and headed straight to Mountain Highway to get those handlebars working then on to Sassafras, Olinda, Monbulk, Yellingbo, Woori Yallock which unfortunately was where we had to leave one of our mates behind due to an electrical gremlin but we remounted and moved ever onward to healesville, tallangatta, and ending at a rest stop at Castella...
Kelvin and Guy left the root at that point and that is exactly why the root stops at Castella for those who are time poor but for the remaining 4 Mark on the harley, graeme and gary on their B Doubles (Honda Gold Wing), we ventured forth to the St Andrews pub for lunch where the food was good but the jokes were appalling and then heartily fed returned to Melbourne via secret snake roads................we live to ride the snake route another day...Snake.

Note1 re the bike that broke down RACV total care sent two towies who made 100 % sure the bike was not scratched in anyway they arrived 30 minutes after the call being lodged so me thinks maybe I should get this 2
Note2 The snake route is a low speed corner focussed ride so if you are a little rusty ,lack a bit of confidence or are a newbie then this is a great way to improve your skills at whatever pace suits either way we had a ball!!! cheers Snake


Snake1250




Posts

: 113


Join date

: 2014-04-14


Age

: 59


Location

: Wantirna




---
Permissions in this forum:
You
cannot
reply to topics in this forum